May 30, 2013
Today Carmanah Traffic announced Montclair, New Jersey as the winning entry in the Complete My Street Contest. Carmanah is excited to provide an R920 Rectangular Rapid Flashing Beacon system to improve pedestrian access and safety at a crosswalk located on Bloomfield Avenue at Midland Avenue in Montclair. The system will be provided through Signal Control Products, official Carmanah Distributor in Branchburg, NJ.
Chosen from among the 42 locations nominated for the contest, Montclair's crosswalk is located on a busy four-lane roadway lined with stores and restaurants, drawing a high volume of foot traffic. Montclair's entry received overwhelming public and business support, including local media coverage.
Today the crossing is a conventional marked crosswalk with signs and pavement markings that are insufficient for the busy roadway. The location was an ideal spot for the installation of Rectangular Rapid Flashing Beacons and will allow the city of Montclair to make a significant improvement to pedestrian safety for its citizens.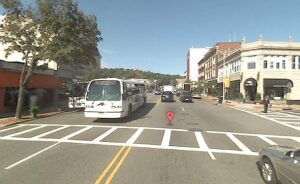 Supporting All Top Entries
With nominations rolling in from Alaska to South Carolina choosing a winning entry was difficult. Seven other crossings received notable community support and the Carmanah Traffic Team will be reaching out to each of these deserving locations to offer assistance with improving their crosswalks.
Other top entries were received from:
Portland, OR (SE Division & 142nd Street)
Portland, OR (Jenne Road & Springwater Trail)
Pittsburgh, PA
Burnsville, MN
Montgomery County, MD
Loveland, OH
Emmaus, PA
"We have been overwhelmed by the response to the Complete My Street Contest," remarked Greg Miller, Managing Director for Carmanah Traffic. "Although we could only declare one winner, we want to offer our assistance to other locations where the community clearly rallied around their crossings.
The goal of this contest was to make walking and biking easier and safer for communities with the installation of Rectangular Rapid Flashing Beacon technology. The amount of engagement with the Complete My Street contest made it clear that we have a role to play in helping these communities build more accessible pedestrian facilities and we want to make sure we step up to that role."
The Complete My Street Contest
Participants in the Complete My Street Contest entered to win a Carmanah R920 Rectangular Rapid Flashing Beacon system for a crosswalk in their community. The contest required participants to submit a short description explaining how they thought Rectangular Rapid Flashing Beacons could help their crosswalk location.
Participants nominated 42 different locations from across Canada and the United States. Entries were posted to the Carmanah Traffic Facebook wall where community members could support their crosswalk locations by liking, commenting on, sharing, or tweeting about their favorite entry. Community support via social media was an important deciding factor in the contest results. The contest ran from April 4 to May 15, 2013.
Contact
Carmanah Technologies Corporation:
media@carmanah.com