LA Daily News
Staff Reports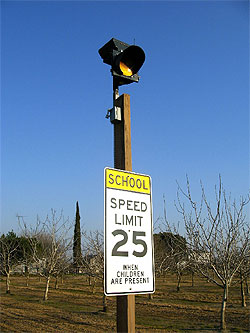 STEVENSON RANCH – Solar-powered flashing lights have been installed in 31 school zones throughout Los Angeles County including locations in Stevenson Ranch to warn motorists to slow when children are present.
Teams from Santa Cruz-based Carmanah Technologies Corp., one of the nation's largest solar power providers, installed the lighting as part of the state's Safe Routes to School program.
The flashers charge in all weather conditions, operate maintenance-free for five years, and are programmable for 500 days, according to Carmanah.
They also were installed in such locations as Palmdale, City Terrace, Azusa, Santa Fe Springs, Walnut Park, Florence, Hacienda Heights, La Mirada and Pasadena.
California law requires motorists to slow to 25 mph near schools when children are present. This applies to normal schools days, and is in effect 20 minutes before and after school when kids are coming or going.
In January, California passed the California Solar Initiative, the largest solar energy policy in U.S. history.
Promising a $3.8 billion investment over 10 years, CSI triples the state's former subsidy and could make California the largest solar market in the world, according to Carmanah.