In the City of City of Saint Paul, Minnesota, several large government buildings, including the Minnesota DOT, are located directly across the street from a large multi-level parking lot. With a high volume of pedestrians crossing the busy street throughout the day, the City was seeking an efficient solution to force drivers to slow down at this pedestrian crossing.
In December 2004, the City of St Paul installed a Carmanah R820 solar-powered crosswalk system. They have implemented 3 units, with 2 on either side of the street and 1 in the center median. With no hardwiring or maintenance required, the system was easy to install and is performing flawlessly in the cold Minnesota winter. Every time the push button is activated, all beacons flash via the wireless communications. This has proven to be a cost-effective way for the City of St. Paul to increase safety for pedestrians using this busy crossing.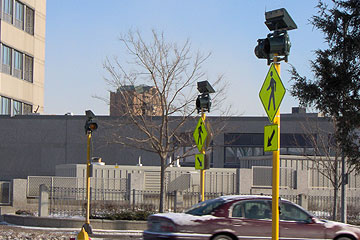 R820 solar crosswalk system installed near an MN state gov't parking lot, which sees both heavy pedestrian and vehicle traffic flow. Photos submitted Brown Traffic Products, Inc.
To-date, the City of St. Paul and the Minnesota DOT have been very pleased with the performance of the Carmanah solar crosswalk lighting systems. It is likely they will implement additional crosswalk systems in the Spring of 2005 through Carmanah's authorized distribution partner in the Mid-West, Brown Traffic Products, Inc.
Adding commercial lights to your parking lot can also help improve safety. See our solar LED parking lot lighting solutions here.