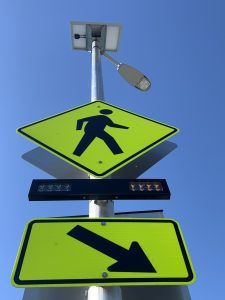 It's getting more dangerous to walk after dark. Over the past decade, nighttime crashes have accounted for 90% of the total increase in pedestrian deaths. But there are ways to reduce the trend, including adding bright, pedestrian-level lighting at crosswalks. In this webinar, our business development representative Jesse Fraser explores how overhead lighting can help your city become brighter, safer, and more walkable.
Here's what we cover:
Overhead lighting design principles and effectiveness
How crosswalk lighting can increase safety and encourage walkability
The benefits of adding overhead lighting to Carmanah beacons
Configuration options and support tools
Click the button and fill out the form to watch the webinar.