With one in four adults in the United States living with a disability, accessible pedestrian infrastructure has gone from a nice-to-have on transportation engineers' wish lists to something none of us can afford to ignore.
Unfortunately, the cost of adding accessible, ADA-compliant options to infrastructure is often not included in project budgets, and many cities can be hesitant to allocate what little transportation funding they get to these kind of improvements.
That's why we're so excited to announce that Carmanah is making accessibility enhancements for crosswalks a little more, well, accessible! Starting today, you can get an audible, ADA-compliant pushbutton on a compact, solar-powered rectangular rapid-flashing beacon (RRFB)—a powerful safety combination for a price tag that's about 30% less than before.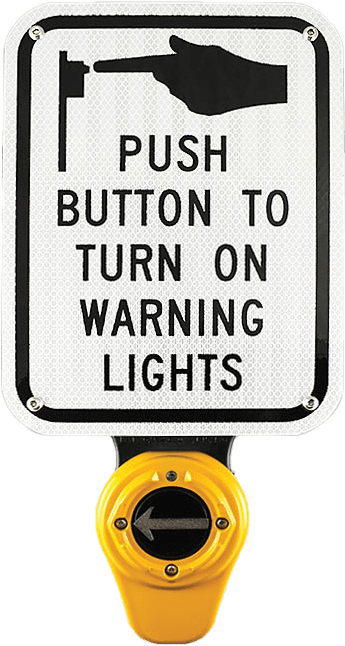 What's new exactly?
Audible or talking pushbuttons have been an option on our RRFBs for several years now, but only on our larger, and more expensive, models. Until now, if you wanted to achieve a fully accessible, ADA compliant crosswalk, you had to size up to a larger solar panel to accommodate the high power requirement of the pushbutton.
That's no longer the case. Now, you can get the same ADA compliant pushbutton functionality—audible message, locator tone, LED confirmation—on our most compact and affordable RRFB model, the R920-E. You can also take advantage of all the new features of Polara's iNX button, including Bluetooth and a smartphone app for easy configuration.
Additionally, Polara's iNX pushbutton supports non-contact operation with the iDetect add-on, allowing pedestrians to activate a crosswalk with a simple wave in front of the button. We've upgraded our energy management system (EMS) for the iNX, so all Carmanah crosswalk systems shipping October 1, 2020 are able to support this new button.
What else do I need to know?
You already know this, but it bears repeating: accessibility is important. Whether it's a curb ramp or a pushbutton or a sidewalk that isn't pocked with potholes, accessibility improvements help make pedestrian facilities usable by people of all ages and capabilities.
Carmanah is pleased to be able to offer a key component of pedestrian safety and accessibility at a greatly reduced cost. Get in touch with our team today to learn more about comparing audible pushbuttons for RRFBs and see how your city can build streets that serve everyone.