Enhance driver safety and compliance with our smarter wrong-way detection system
As a leading provider in flashing traffic beacons that increase road safety, we wanted to bring our expertise in high performance and power efficiency to tackle pervasive wrong-way driving (WWD) incidents. Today, we're rounding out our WWD product portfolio with our latest WW200 wrong-way detection and warning system. We're pleased to be able to offer a comprehensive suite of WWD solutions to meet agencies' diverse needs relating to ramp size, WWD crash risk, cost and more.

A simple to use, low-cost wrong-way detection system
This smarter wrong-way detection system leverages radar technology to trigger high-intensity flashing lights, increasing driver awareness only when a wrong-way incident occurs. Features include:
Configurable radar settings for detection speed and sensitivity
Highest LED intensity output in the industry
Mounts to standard poles
Scalable design: multiple signs can be added with synchronized flashing
Flashing light options include LED enhanced signs in various sizes or light bars
Powered by solar or AC
Solar Power Report™ (SPR) prepared for every location to ensure battery longevity
Vehicle detection systems are up to 80% effective in stopping wrong-way drivers
A scalable product, the WW200 detection and warning system can be installed in a variety of configurations to meet the requirements of any ramp. It can operate as a standalone system or alongside multiple radio-activated WW100 wrong-way flashing signs to enhance the warning message. Two or more WW200 systems can even be deployed simultaneously to cover larger ramps.
As a driver approaches the WW200-equipped ramp going the wrong way, the WW200's radar unit detects the vehicle. The system then activates the warning lights—broadcasting that signal to all adjacent WW100 signs—to alert the driver to their error and encouraging self-correction.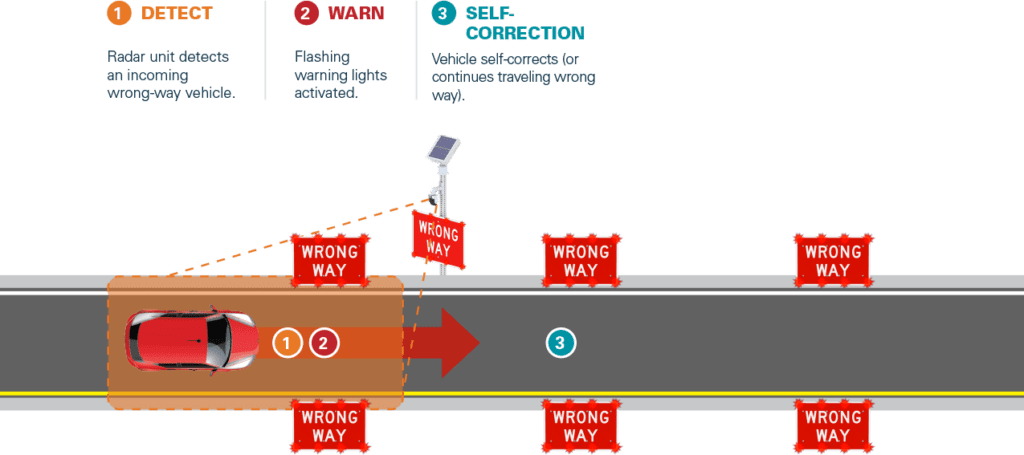 All of our products are designed to the highest industry standards and backed by an expert support team. The WW200 comes with a 3-year limited warranty and every solar-powered model is solar-sized by location to ensure year-after-year operation. Carmanah includes a Solar Power Report to prove sustainability over a 12-month period.
>> Learn more about our wrong-way driver portfolio of products
>> Learn more about our WW200 wrong-way detection and warning system