SpeedCheck Variable Speed Limit
Alert drivers to adjust to appropriate speeds as road conditions change
Variable speed limit signs manage traffic flow and increase safety by dynamically adjusting the posted speed limit and displaying it in high-visibility-illuminated digits contained within a familiar MUTCD-compliant regulatory speed limit (or school zone speed limit) sign.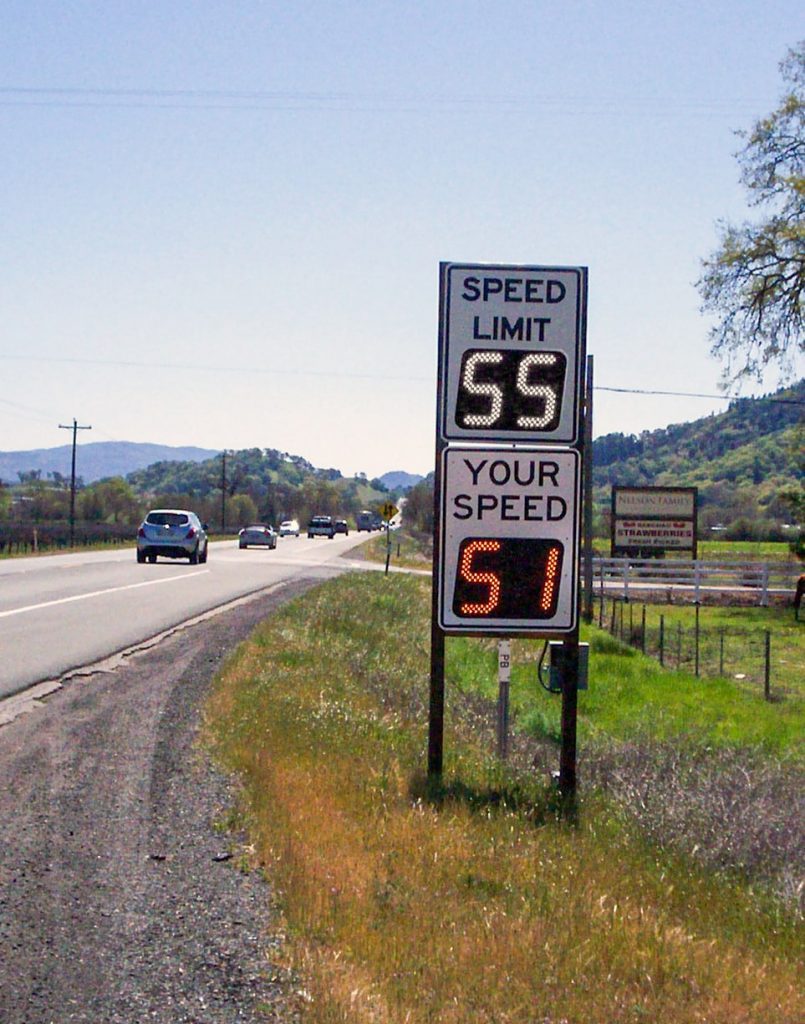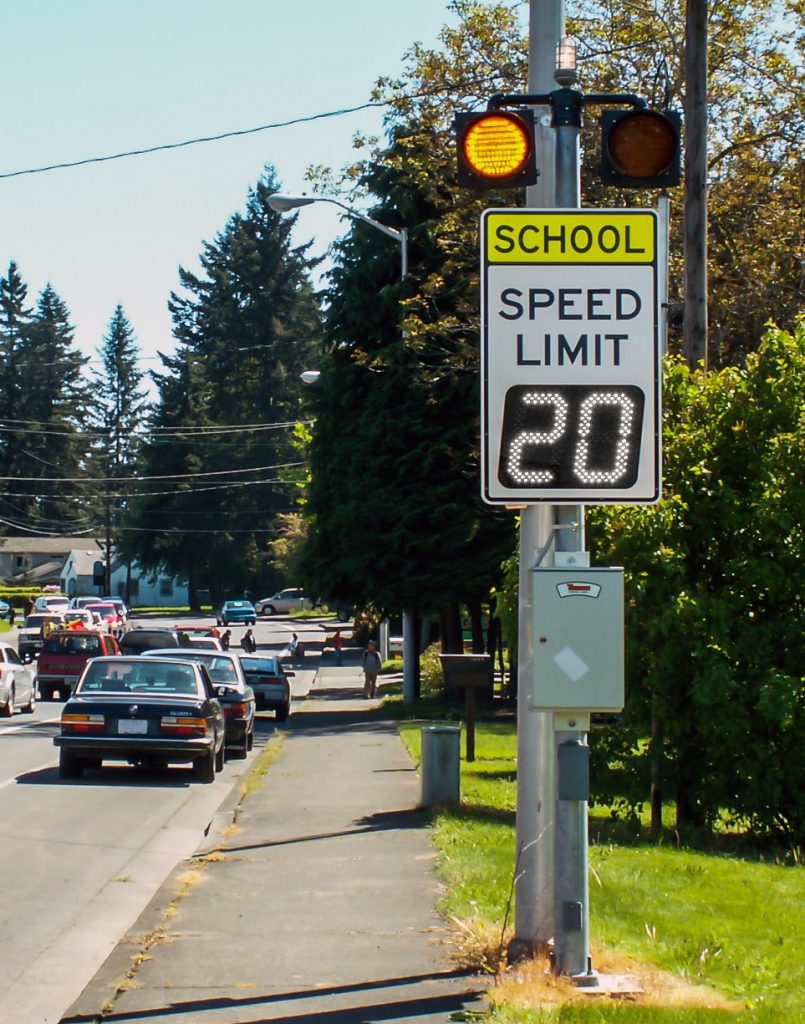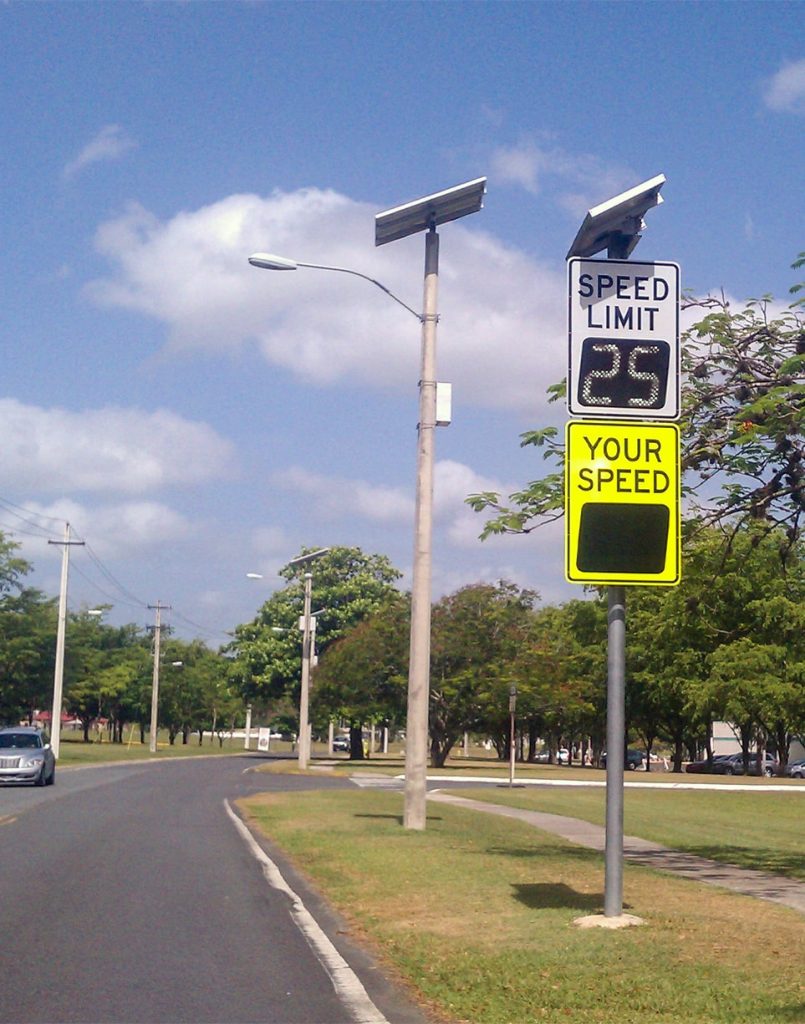 These displays are often used to modify and reduce speed limits on highways and other high-volume corridors due to congestion or poor weather, however, they are just as applicable to school zones, work zones, and anywhere speed limits require temporary modification. With the included SpeedCheck Manager software, schedules can be programmed in advance or adjusted on the fly using a remote Ethernet or local Bluetooth connection.
Available in 15- and 18-inch models (for roadways with speed limits up to and over 45 mph, respectively), these durable systems have all the high-visibility and efficiency features our SpeedCheck radar speed signs are known for:
Industry-leading high-contrast display technology for visibility in all weather and lighting conditions
Proprietary safety mask that limits the viewing angle to prevent drivers from watching the display as they pass
Vandal-resistant design that can absorb up to two inches of impact deflection without damage to internal components
LED display that can be programmed on a schedule or updated on the fly using the included SpeedCheck Manager/SpeedCheck Scheduler software (see below)
Solar and AC power options
FHWA/MUTCD and Buy America compliant
The SpeedCheck variable speed sign can be combined with our 24-hour flashing beacons on a single or separate pole, or with SpeedCheck radar speed signs for a complete solution. This product comes with a 3-year warranty for peace of mind.
System specifications
| | |
| --- | --- |
| Display | 7-segment LED panel; white on black as per MUTCD memorandum |
| Digit size | 15″ or 18″ (recommended for use on roadways with speed limits below/above 45 mph) |
| Power | 100 – 240 VAC in standard configurations; 3.5 W for typical daytime use |
| Communication | Local Bluetooth or remote Ethernet connection |
| Enclosure | Ventilated, weatherproof NEMA 3R enclosure |
| Signage | MUTCD-compliant regulatory speed limit or school zone speed limit sign |
| Warranty | 3-year limited warranty |
Software
SpeedCheck Manager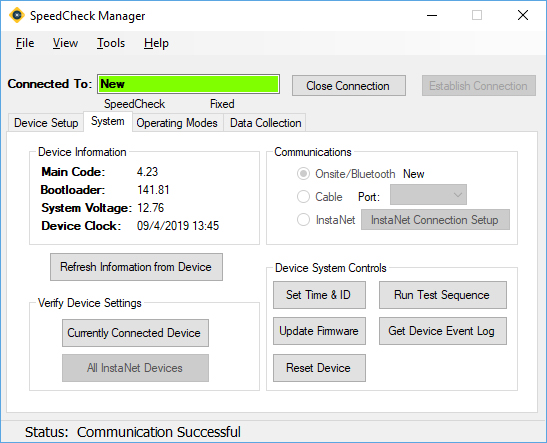 The SpeedCheck Manager software allows you to easily set up, program, update, and perform maintenance on your variable speed limit sign. It can be accessed locally with Bluetooth or remotely using an Ethernet connection. If your system has external devices, such as beacons or cameras, you'll configure them here. Read our Manager spec sheet for more information.
SpeedCheck Scheduler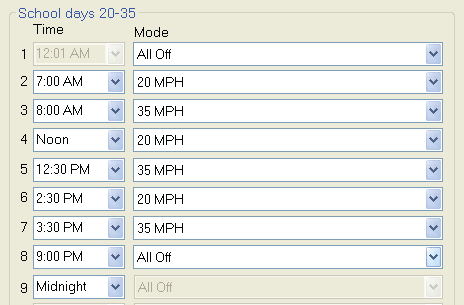 Ideal for school zone applications and anywhere a set schedule is desirable, the SpeedCheck Scheduler is included with SpeedCheck Manager and allows you to program and manage schedules for multiple signs, from simple on/off functions and data collection times to the operation of external devices like flashing beacons and cameras. This easy-to-use scheduler lets you set up to 16 unique events per day over two years. Read our Scheduler spec sheet for more information.
SpeedCheck Traffic Analyzer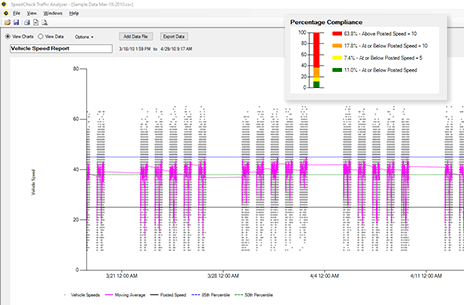 When enabled, the radar on SpeedCheck variable speed limit signs can be used to collect the date, time, and speed of over 200,000 vehicles. You can connect to your SpeedCheck display any time and download this collected traffic data. SpeedCheck Traffic Analyzer lets you plot the data, see the success of your traffic calming programs, and identify areas for improvement. Read our Traffic Analyzer spec sheet for more information.
Top 3 reasons to select a Carmanah variable speed limit sign
7-segment design improves sign visibility and legibility from a distance.
Ultra-clear contrast delivers superior viewability in bright sunlight, with no "88" character ghosting.
Easy-to-use software that provides real-time scheduling and control.
We put solar to work™
No matter where you install your digital variable speed limit sign, we can run a comprehensive site assessment to confirm the best solar-powered solution for your project. We run a field-proven software simulation to create a Solar Power Report™ to show you how we did it. Best of all? It's free, and we can have it ready in 24 hours.

Configuration Options and Add-ons
Variable Speed Limit Sign Options
DIGIT/DISPLAY SIZE: We offer the high-visibility variable speed limit sign display comes in two sizes: 15" or 18". The smaller model is recommended for roadways with speed limits up to 45 mph while the larger is recommended for roadways with speed limits over 45 mph. This is to ensure optimal sign visibility and digit legibility.
SIGNAGE: Our variable speed limit signs are compatible with FHWA/MUTCD compliant regulatory speed limit signs. These include R2-1 standard speed limit signs and S4-3P school zone speed limit signs.
MOUNTING: Variable speed limit signs can be mounted on a variety of standard pole types, as well as on an overhead mast arm (typically used in highway applications).
CONNECTIVITY : All SpeedCheck variable speed signs are equipped with local Bluetooth and remote Ethernet connectivity.
CIRCULAR FLASHING BEACONS : While variable speed signs are highly visible and effective on their own, they can be further enhanced with Carmanah's high-intensity circular flashing beacons. This is an especially popular option for school zones.
Imagine the possibilities