Carmanah's technical bulletins are intended to provide updates, clarification, and guidance on the installation and maintenance of our products. They convey relevant technical product information to our partners and customers. Please contact us if you have any questions about the content of this bulletin.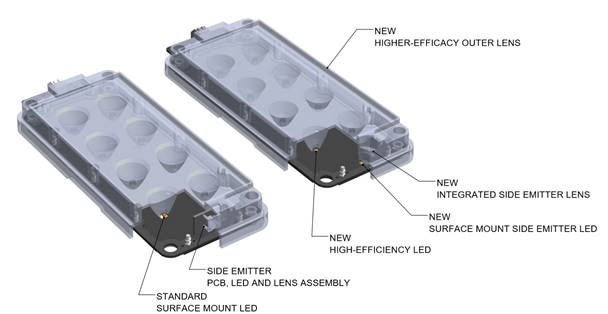 Product Applicability
This bulletin applies to the follow product lines:
Current products: E Series, F Series, G Series
Legacy products: SC315, R920
Carmanah began shipping a revised light bar design in Q3/Q4 2019. There is no physically discernible difference between this or previous revisions aside from a few minor visual cues, such as the confirmation LEDs are now fully integrated, as opposed to being connected via a daughter board. The updated light bar uses new part numbers to distinguish it from prevision revisions.
Background
As LED technology has improved, Carmanah has made a product revision to the yellow light bars used in our RRFB product line (specifically the SC315/R920 models). By moving to a more efficient surface-mounted LED and redesigning the outer lens of the RRFB LED module, we have achieved an increase in power efficiency, while still meeting our standard RRFB intensity, which is greater than the required SAE J595 Class 1 minimum.
Recommendations
No actions are required by the end-user with regard to this technical bulletin. Adjustments to the Energy Management System (EMS) intensity setting may be beneficial for lower system power consumption. The intensity setting should be set as follows:
EMS versions that have an intensity (INTY) setting – 160mA per light bar

For example, two light bars would mean a setting of 320mA

EMS versions that have a light bar (BARS) setting – choose 1 or 2 for the number of light bars

For example, two light bars would mean a setting of 2
If you are replacing the light bars on an existing system, it is recommended to be done to all light bars in order to achieve consistent optical intensity and compatibility. Do not disassemble the light bar optic covers. Please contact Carmanah for further details.
Have questions? Our customer support team is always available to help.